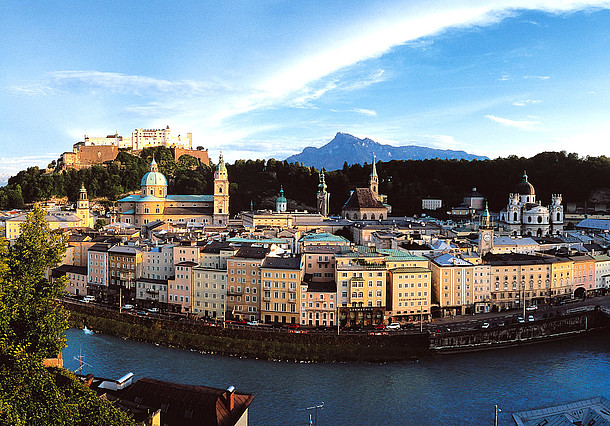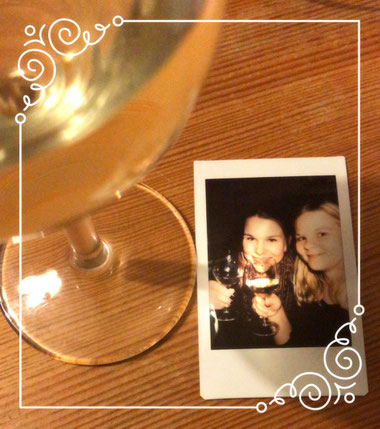 Well, the whole trip started when i talked to my friend roxy and decided to visit her in Salzburg, Austria. so i booked my train tickets. For all readers from overseas, yes that is the great advantage living in Europe. I learned to appreciate these short distances while traveling outside Europe and since then, weekend trips throughout Europe became a passion of mine. 
The train ride took me around 6 hours before i arrived Friday night around 12 o'clock in Salzburg main station.
Saturday the sightseeing part started after our self prepared breakfast. First stop was the fortress Hohensalzburg which is located on the Mönchsberg hiking up there rewards you with an amazing view of Salzburg and the snow covered mountains in the background. All in all, Salzburg is dotted with white houses and many of them are baroque styled churches with light blueish roofs. The river Salzach that runs through Salzburg gives the town a certain touch that makes it so enjoyable here. People who are not able to walk up the hill or are maybe to lazy to do it can pay for a really steep cable car that runs every 5 minutes. This cable car takes you directly to the old town part which is just marvellous. The bright buildings combined with the cobblestoned pavements take you a back to a time where Amadeus Mozart lived. Horse carriages are running through the streets and from all these small cafe places, classic music lets you believe that a little bit of Mozart is also in you.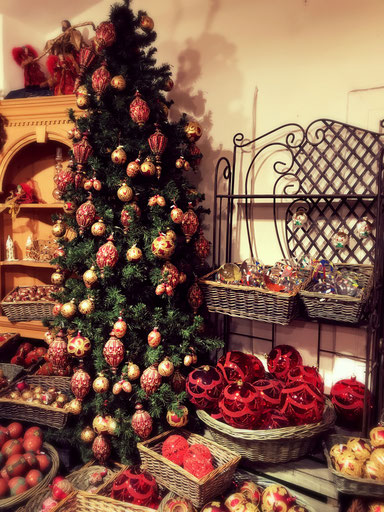 Especially during this time of the year when the Christmas madeness is going to start. Salzburg is filled with fantastic and tiny Christmas shops which are open all year round but now, they just trough me right away in the Christmas feeling that i love so much. after visiting the biggest church of Salzburg we came out and our well trained noses caught the smell of mulled wine right away. mulled wine, in Germany called Glühwein is the best beverage during wintertimes and flavoured with cinnamon and other christmassy spices it let's you believe you are sitting under the Christmastree and spending a wonderful time with your family. So we decided that it was enough sightseeing for the day and we started enjoying the Christmaslike atmosphere on the Mozartplatz. From Glühwein we went on with a typical Austrian drink called Spritz which is nothing more than wine meld with soda. It is always a good choice to stay with one sort of alcohol, in German we have a saying with the meaning wine and more wine is fine. But we had to stay still a bit sober because we still had to do something such important. Souvenirs needed to be snagged. The first thing i need to buy on each trip is a magnet of the city, so far i have already an impressive collection but there is still much to do. The second thing is a special postcard that deserves a spot in my travel loo. yes you heard right my toilet in my apartment is tiled with postcards from all over the world. Last but not least I always need to buy one nailpolish when I am on tour. I choose always a color that reminds me of the city or destination i visited so when i use it at home, i think back to this particular trip. for Salzburg i chose a metallic and light blue one which reminds me of the blue rooftops that cover the entire city. However before going on the souvenir hunt we needed food. Both of us really love the sweet things in life so we decided to go for a traditional Apfelstrudel. We went to the Cafe Würfelzucker which has been recommended by Roxy's colleagues and i really have to say, Strudel are what they are good at. the cosy and wooden atmosphere was the perfect location for the late afternoon. After that we spent the night with some more wine in Mozart's corner, one of the cafes in the old town where I saw this lovely, elderly man at the table next to us. This is one of the serendipity moments that I love so much. He was just sitting there eating his wiener schnitzel with a good glass of wine and wearing his traditional attire with proud including this cute socks. These moments are the reason why i travel. the rest of the night roxy and i were walking along the river Salzach just enjoying ourselves.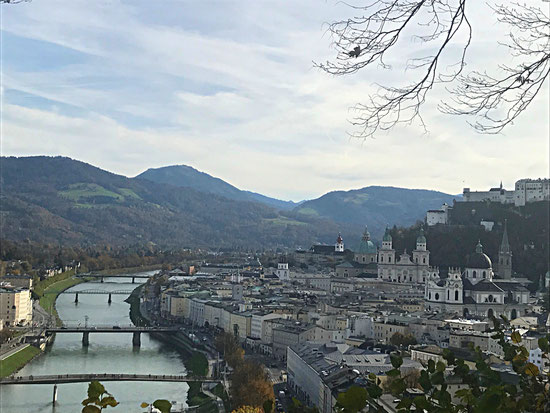 Sunday morning we were woken up by the sun. We were so lucky with the weather that weekend or maybe we just deserved it but i really shouldn't shout that out. I have to be careful with my karma points. Once you get to know me a bit better you will probably see that i am bit of a  clumsy fellow but that is another story. So we started our day with another hike up the Mönchsberg towards the Capuchin Monastery which rewarded us with a fantastic view above the city but this time from the other site of the river. The whole hike up and down took us around 1 and a half hours so we decided it is for sure time for coffee and cake. should you decide to read a few more of my stories it will stick out that coffee is the drug of my life. for such a coffee addict like me it was not really a question where to go in Salzburg since the famous Sacher Cafe stood out right away. once we arrived i was amazed by the interior and especially the costumes of the waiters and waitresses. it felt like i was sitting in a parlor during the imperial era. normally the choice of cakes is killing me but this time i knew already before i entered what kind cake i wanted to try. it was the traditional sachertorte. a chocolate cake with a bit of jam in between and chocolate coating on top. for every chocolate lover i can just say go for it because you will love it. completely satisfied, we went on a last short stroll through the old town where we visited the house in which Mozart has been born. unfortunately it was afternoon already and the train waited for me. yes the relationship between me and trains has always been a bit tricky. so this night again, there were of course some technical faults which let me miss my connection train in Würzburg, resulting in a delay and an unplanned bus right through the night. however in the end i arrived in Aschaffenburg before midnight. i really enjoyed this weekend trip and i hope you enjoyed my first travel story as well. in case you have a tip or suggestion where i should travel next, please leave me a comment on the first page i would love to see what your favorite travel places are and who knows maybe my next travel story will be about that particular place.