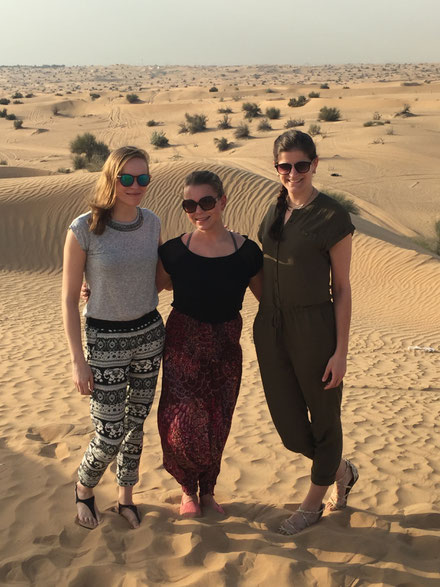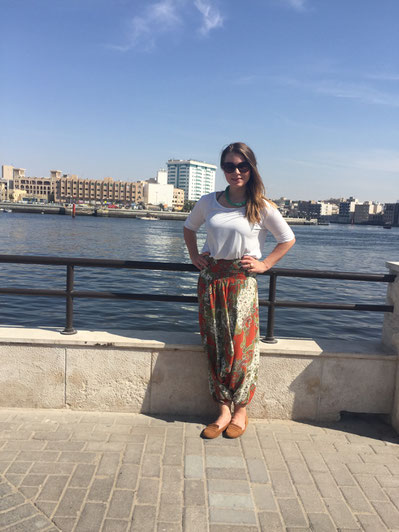 Welcome to the world of the rich and famous. Before I went to this, let's call it extraordinary place, I heard many opinions about Dubai. Some told me: no never go there is is just hot and fake. Others just said: yeah you can visit the city when you have a layover there, so one night would be enough. Again somebody else was more than amazed of this country growing out of the desert.  So if I hear all these different opinions what should I do? See by my self! Okay I have to admit this trip was not really planned... There was this one night close to Christmas when my friend and I enjoyed some (bottles) of mulled wine. So what to do if it is cold outside? Of course book a trip to the sun no sooner said than done we booked to to flight tickets from Cologne to Dubai in March. Those spontaneous bookings are most of time not really thought through but be honest to yourself, you never regret them. In case you never tried it before, grab a bottle wine, your best friend and be creative. 
So in March the time had come. In Germany the weather was really bad during that time. It was cold and rainy so the perfect time to pack your flowing, summer dresses and a bikini and fly to the sun. So we did, once we arrived in Dubai it was around 30 degrees. For us Germans that is quite hot and we made beach plans from the minute on we exited the plane. The flights by the way were quite cheap. For a seven hours flight we paid 99 Euro. Once we unpacked in our apartment and dressed up in the middle east style we went out for some sightseeing. It felt so nice to wear these clothes again because since I left Morocco I had no chance to wear those them. First we visited the old town of Dubai and spent some time at the river and on the traditional market. The market was also the place where we got out nicknames. Sure everybody gets them but we were flattered. On this market we bought some spices and I bought the best cinnamon I've ever had. Most of think now, cinnamon always tastes the same but no that is not true. I am a hopeless cinnamon addict. I don't know if it is because of my Christmas fanaticism but there is no day without cinnamon in my life. I even have it in my handbag. Coming back to the point the spices were just great. I also bought Safran because the quality and the price compared to the product in Germany is really good.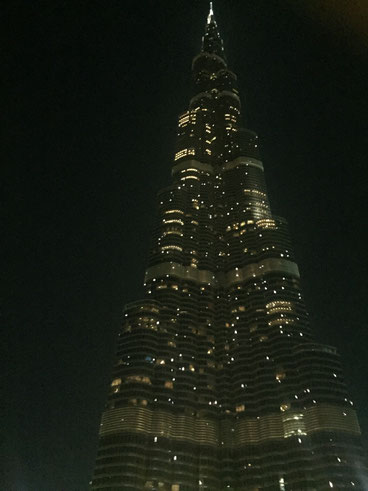 When we were done with shopping we decided to take the boat and crossing the river. Who told me that Dubai was expensive? Then take just the boat the whole day because it costs you not even 1 Euro for the ride. When we were on the other side we visited the Dubai Mall with the huge aquarium inside. So insane the different malls are, they are really worthwhile a visit. Come on who doesn't want to see a skiing hall in the middle of a desert? Once the sun started to set, we decided to save us a great place on one of the verandas in front of the Burj Khalifa and the water fountains.  Go there early enough if you want to sit outside. We nearly fought for our table at this Arabic restaurant. In the end the fight was worth it. We shared a table full of Mezze, the Arabic version of Tapas and they were amazing especially the Hummus. We sat there for hours enjoying the warm night with the light and water play around us. It was just the right closing for a perfect day.  In total we spend 7 days in Dubai. One of them we went on a trip to Abu Dhabi but I can say that one week is a good time to spent there. The next day we went up the Burj Khalifa. Just one tip, reserve your tickets before you go there in the internet ist just saves a lot of time and nerves. When you have reserved your tickets, you just get them from a vending machine in front of the entrance, where hundreds of people are queuing. Another tip... try to have a look to the weather forecast because if there is dust in the air you can't see anything on top. When we went it was a bit dusty but we still had a great view.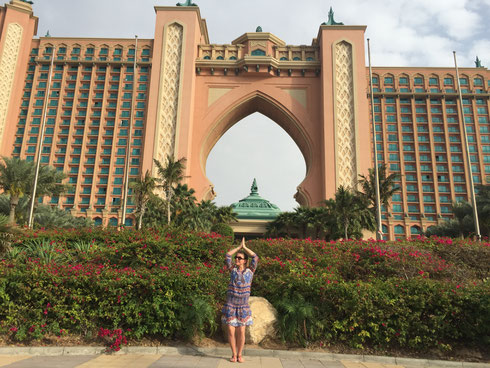 The next day we spent first on the beach. The view is just spectacular.  Once you entered the water which is as warm as your bathtub at home and you turn around, you see this amazing skyline. The water is really clear so the perfect spot for some underwater pictures. When we changed colors already from white to red, we decided to see something else. So we packed our bags and took one of the state-of-the-art trams to the Palm. By the way the tram stations are all worthwhile a visit and sooo clean. The tram itself even has a special women sector which is highlighted my a line and believe the men respect that line. The Palm itself is nothing really special once you are on it because you can't see the shape of this island from the ground. This would only be possible from a helicopter or an airplane. However we came there because my touristic heart always beats harder when I come across these amazing hotels. The Atlantis Hotel is a perfect example for this. I just had to enter it once. Now I will give you a secret tip on how to enter these hotels. First of all always be really nice to the concierge and ask him if it possible to buy stamps in the hotel. In our case it worked. He let us in and told us where to buy stamps but once in we had to check this place out. It was just awesome with this huge aquarium where people could pay for some scuba diving lessons. So definitely a place to be. For the night we had booked a night cruise dinner. Yes sounds really fancy but it wasn't. In the end we called the Indian Love Boat Tragedy. We recognized already before that Dubai is willingly visited by Indians. But this cruise night? We were the only non Indian on this packed, little boat. We felt a bit wrong there and when the music started this feeling intensified. The 'dinner' was a mini buffet which was rushed at as if this would be the last food in years. So we just say it was a special experience but we would not repeat it.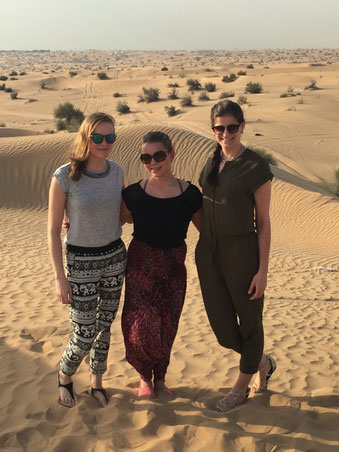 For the next day we were so excited. We booked a whole desert day experience. First we were picked up by our privat driver Ifti. He was a really cool guy and we had a lot of with him but I guess he had more fun with us. He picked us up with his 4x4 Jeep and from the city we went outside into the desert. After a half an hour drive we reached the first sand dunes. The first part of this day was the so called dune bashing and guys I can tell you it was so great. You always had the feeling of falling over. Ifti was quite amused of our screaming but he drove us safely to the desert camp. Once we arrived we could do a lot. It started with camel riding and we went on with traditional pictures in Arabic dresses. Followed by our own henna tattoos and sitting in cosy cabanas with a bubbling water pipe next to you. The day was rounded off by a fire and belly dancing show once the sun set accompanied by a huge bbq buffet. All in all it was a really great day. Sure it was so touristic but come we are tourists in that situation so enjoyed ourselves that day.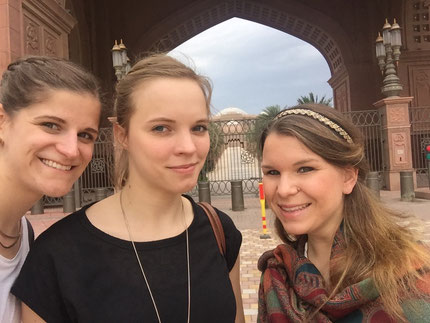 For us it was an obligation to visit Abu Dhabi at least for one day. All of us are big fans of sex and the city and they taught us, Abu Dhabi is the better Dubai. So we had to check out but no one had thought about this outcome... Before I explain that you should know the United Arab Emirates have approximately 5 rainy days a year. These days are normally not in March at all. Guess what we experienced? Right and it was not only raining when our driver picked us up no it was literally pouring. It made us already skeptical when our was obviously overstrained by locating the windshield wipers at his car. Already in the morning the streets were swamped by mud but this was going to be way worth in the afternoon. First we went to the Ferrari World and the shopping mall next to it. In the end we had to escape out of the shopping mall because masses of water came inside the mall like waterfalls. The whole mall was flooded and the shops had to close. People told us, this kind of rain they haven't seen for decades. It was even in the German tv news. Of course that can only happen when I am there. I mentioned before my karma points right? See, that's what happens when you travel with me... our next stop was the beach. Yeah great beach time, so we made one picture just that we were there and then we continued. We stopped by the hotel where Sex and the city 2 was filmed. At least one highlight of the day. The real highlight that we wanted to see so badly was the Sheikh Zayed Mosque but guess what? It was closed due to flooding... So we just drove by, one picture in front and that's it. We had no idea that the biggest challenge of the day was still ahead of us. The ride back home to Dubai. Normally it takes around one and a half hours to get there. In the end we spend more than 5 hours on the road and then imagine... There was exactly 1 gas station along the road. Once we arrived there it felt like the world is coming to an end. We had to wait more than hour to get our petrol and if there is only this one gas station means that is also the only toilet. You have no idea how disgusting that was but where else to go? Behind a tree? In the desert not really a good idea. When we arrived that night in our apartment we needed some wine. If I think about that trip now I love what happened and at least not everybody can claim that he/she had experienced pouring rain in the middle of the desert.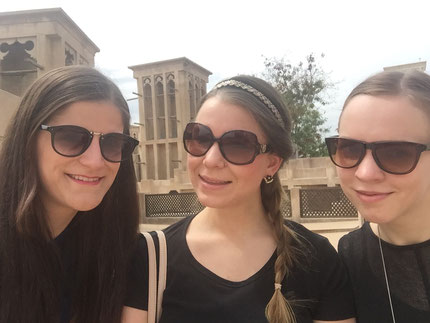 The day after that doomsday we woke up and the sun was shining again. So we decided to spend our last day at the beach and enjoying the sun for a couple more hours. Yes, we overdid this a bit. Completely burned, we went in the evening to the airport waiting for our flight taking us back home. Maybe the fact that we looked like red traffic lights, and I am pretty sure we would have glowed in the night was the reason why we were upgraded to business class. At least we had a really comfortable flight home. This trip was just amazing and I am curious where the booking this Christmas will take us to. But stay tuned and you will find out first. ❤︎