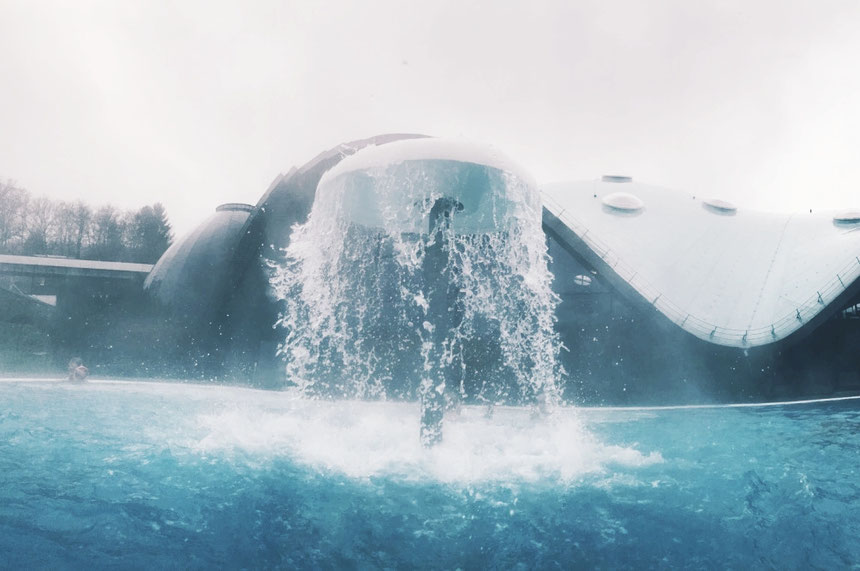 It is Friday five o'clock. Working week? Check. So what to do on a cold, dark and rainy November weekend? Wellness is the answer! So together with my friend and colleague, we packed our bags and off we went with the train to Bad Orb. A little village about 1.5 hours away. Yes for us it was a bit longer. I said before the relationship between public transportation and my inner karma is not the best. So like always the second train that we had to catch was late and then we didn't get the bus afterwards which was supposed to bring us to our hotel. In the end we took a taxi but welcome to my daily life. Things always tend to turn out different than imagined or planned. Once we checked in the hotel directly next to the thermal bath, we just enjoyed some Prosecco. Several soft and fluffy pillows made it impossible to get out of bed that night so we slept until the next morning.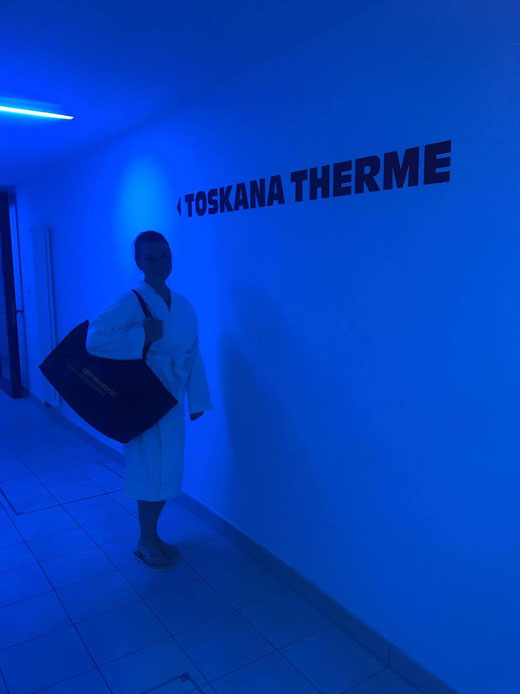 Do you know the feeling when you wake up in the morning and feel that you batteries are completely charged? Saturday morning was exactly like this. Around 8 we went down to get some breakfast. The breakfast buffet had a large selection of all these good things you need to start a good day. So we were ready to continue our pampering day. We just quickly put on our bikinis and wrapped us in our oversized bathrobes. Our hotel was connected with the thermal bath through a tunnel that gets you right into the mood of relaxation with its blue lights and smooth sounds. Once you enter the thermal bath we had a choice of different pools inside as well as outside. The highlight was the liquid sound cave. A brine bath in which we could float while listening to music underwater and light effects under the ceiling.
There were not only the pools but also a sauna landscape including a steam bath and a Finnish sauna. So to speak it was heaven on earth and the prefect way to get your head clear. As hotel guests you get a wrist band that enables you to go and come whenever you want to. So we decided to go out for dinner and come back in the late evening since the bath is opened until midnight.
For dinner we wanted to check out a small brewery that serves meals as well. One fact that happens when you travel with me is that these plans never work out. So it did not surprise me when the brewery had company holidays as we arrived. So we ended up at an Italian restaurant which was actually really good and although wellness is not exhausting at all, we felt like we did a marathon. Back in the hotel we put on our bikinis again and enjoyed the last few hours in the warm water. Especially when the night came, the light effects became visible. From outside, the entire bath looks more like a spaceship.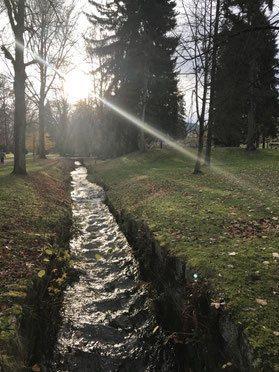 Totally relaxed and with wrinkled hands we went to bed that night and had a peaceful sleep. The next morning started again with the great breakfast before we checked out and strolled a bit through the old town. The way back to Aschaffenburg went smooth and the rest of the day was just to prepare for the upcoming week. It is getting closer and closer to Christmas so presents need to be shopped.